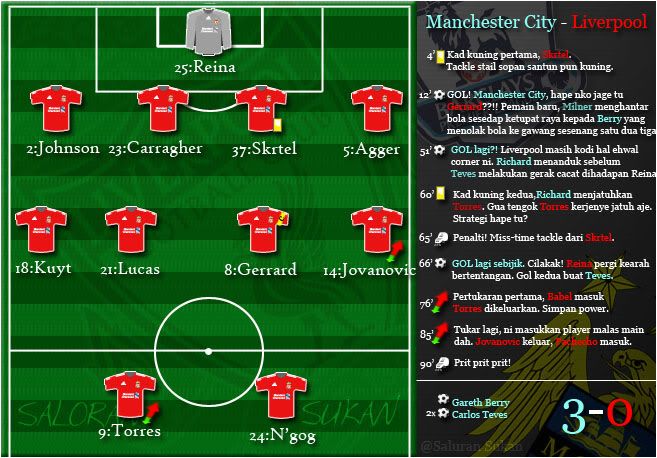 Gua hanya isikan ayat cedok dari Brader Roy, ikut hati taknak apdate langsung. Tapi kene "Committed to the game!" & "Semangat Bola". keh keh keh
"It doesn't matter whether the result is harsh or not - the result is the result," he said.

"I didn't think we were under the cosh to the extent that 3-0 may suggest.

"I think we were a bit unlucky with that wonderful double save from Hart which might have got us back in the game at 2-0, but we defended poorly for the goals.

"They took their chances well. I thought they played very solidly throughout and they were very strong physically and took charge of the game.

"We were always fighting to get back into it so you just have to accept that it wasn't our night tonight, but we were unable to produce the level of performance necessary to get a good result from this game."

He added: "We are talking about two teams at a similar level, we played away from home tonight and City played well.

"Last week we conceded a goal in the 90th minute after playing for 10 men for 45 minutes of the game.

"We don't think we did too badly in that (Arsenal) game but we didn't do well tonight because we didn't get the result we wanted."
Semangat bola! eh silap, YNWA!